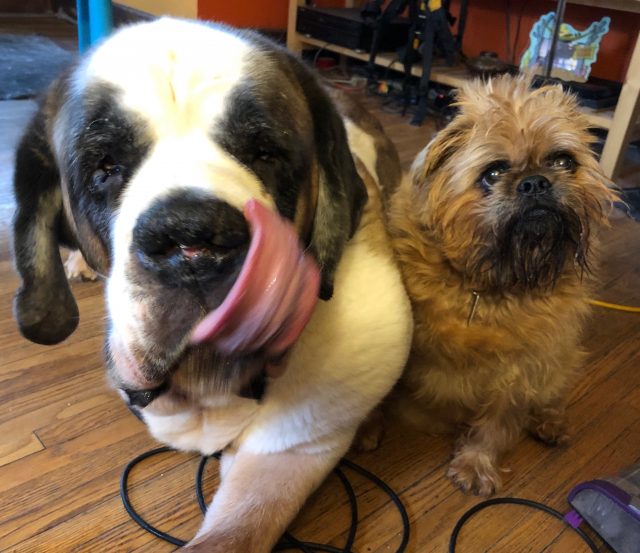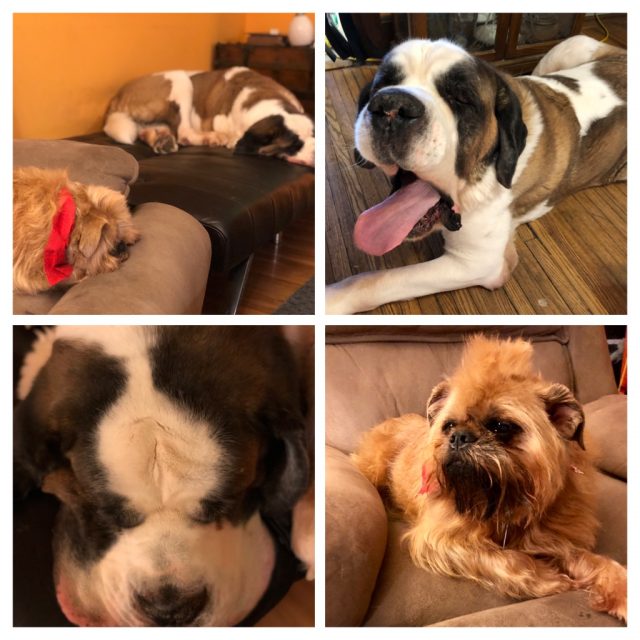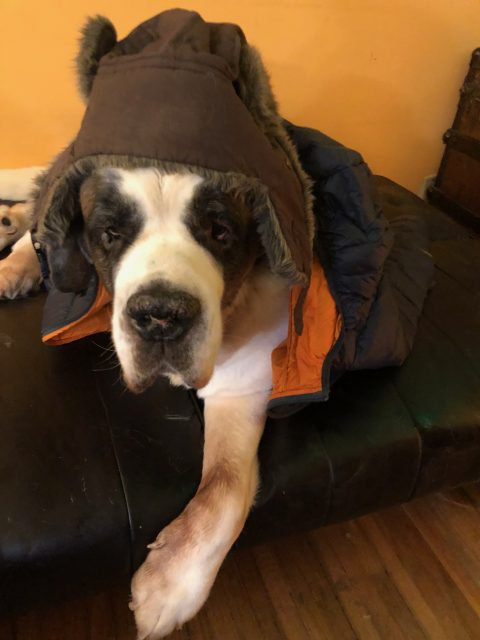 Hi everyone! It is MEEEE with an update. I want everyone to know that 2/11 is my 9 Month Ampuversary and I am still doing very well. I will be 10 months post diagnosis on 2/22 and I am expecting a PARTY! I was at University of Wisconsin on Wednesday and had my chest Xray and recheck for the Clinical Study I am in. No evidence of relapse!! Yipee! I don't go back again til 4/3.
The doctor DID say, however that I am getting too FAT! I am 169.84 pounds now and I was only 185# before my amputation so I hate to admit she was right…  Mom is feeling guilty about it so she won't get me any more chicken tenders or Egg McMuffins. Personally, I believe it has NOTHING to do with McDonalds but it is all the fault of the Blue Bunny! I LOVE that Blue Bunny ice cream, but now my mean Hooman Mom has taken THAT away too. In addition, she has cut down my DOG FOOD Portion. The only thing THAT has done is made my brother Raffie lose weight (I eat his food too, now).
The only advantage I see to this is that I now get to go to day Care more often. Mom thinks that I will get some exercise there and lose weight. She doesn't know it but I just go there and sit around watching the other dogs run and play and act stupid! I know how to work the system!
My mom is very grateful to God that I am doing so well. I hear her praying every night and giving thanks for meeeee! She just loves me way too much, you know. She still lets me sleep in her bed even though I get so much hair in there that she has to vacuum the blanket and I get so much drool all over that she has to mop every other day. I get up and down from the bed 3 or 4 times a night and wake her up but she doesn't say anything. She doesn't love me enough to get me Blue Bunny any more though and she has not made me a cake for over 2 weeks!
The doctor said I need to lose about 10 pounds by my next exam. Everyone is worried about mobility and I guess that DOES make sense. I have noticed that it takes me a little more effort to disturb Mom's sleep than it used to. I will post more when I have (good) news! Love to all!