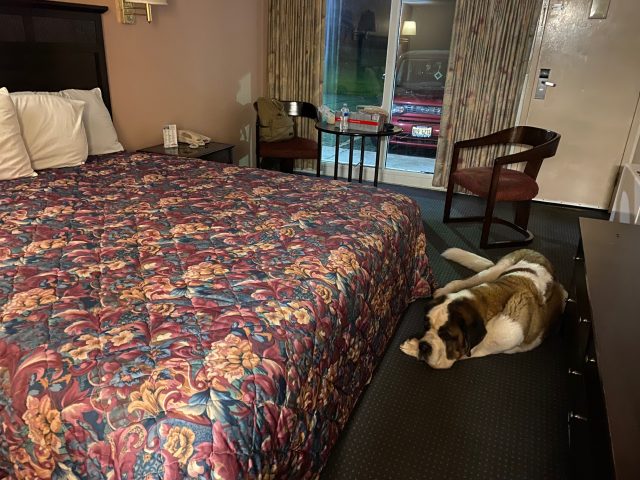 AUGUST 11 IS MY 27 MONTHS AMPUVERSARY! I did NOT get a celebration cause my Birthday is 8/11. I was cheated – right?!
I did have an adventure though. Very bad storm by my house on 8/10/20 and the power went out at about 3:30PM. When it had not come back on at 7PM Hoomama and I (mostly Meee) decided it was time to move to plan B. Our appointment at University of Wisconsin was 8/11/20 at 10AM, so after discussing it with Hoomama, I decided we should drive 1/2 way and stay overnight at a hotel near Interstate 90. In the morning we would proceed to UW without any breakfast for me cause I gotta get a little sedation for my Xray.
Away we went and THIS is where we stayed – See photo above – as you can see this was NOT a Hyatt House or even a Hilton or Marriott! Hoomama said it was just fine but it was NOT FINE! Look at that bed! There was NO WAY I could get up on that bed. Hoomama said I could sleep on the floor! Imagine her saying that?!  Often I DO sleep on the floor at home but that is MY CHOICE and I was NOT happy. Anyhow, I had some water and some treats and I peed on the grass so it was OK.
I got a new doctor and she was really nice. Dr. Magee is still there so I got to visit with her too! I really love it once I get there, I just don't like going. Everyone here is always soooo excited to see meeee. I am a FAVORITE.
I was told the Study I am in will be over at the end of October. I HAVE OUTLIVED THE STUDY!!! There were 7 or 8 other dogs in that study at UW – (there are sites at different Universities as well). Just ME and one other dog are still alive and kicking with 3 legs at 2+ years. I will get to go back one more time at end of October. After that there is no more funding for the study. I am hoping to see some results of the study in the future. Hoomama said she will pay for me to be seen there every 6 months cause she really loves this place!
Thank You Jesus, UW and Tripawds Foundation for helping meee and Hoomama so I can have a normal and full life. I will be 8 years old 8/31 and I am told that is a normal lifespan for a big dog like meeee! I am planning on going on BEING MORE DOG as long as I can!
More to come! Love and sloppy kisses and wagging tails and HAIR all over the place!