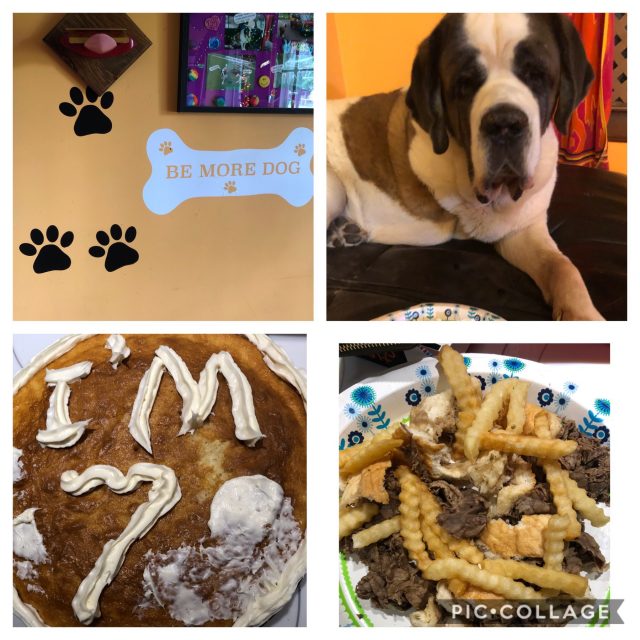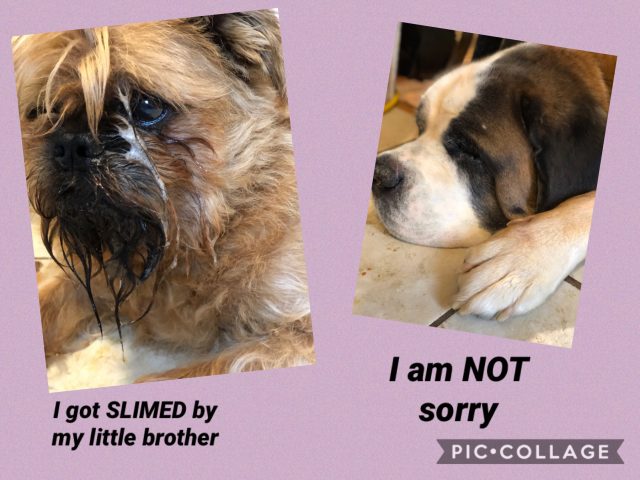 Hello Everyone it's meeee and I MADE IT to 7 years old!!!!! HOPPY BIRTHDAY TO MEEEE!! My Hoomama is doing the Hoppy Dance and she is soooo grateful to The Lord, to University of Wisconsin, to the Tripawds Community, to EVERYBODY! She is so annoying!
Its sooo embarrassing when she goes around telling everyone what a wonderful dog I am and how she is sooo blessed to have me in her life. For Heaven's sake, where else would I possible go to get treated like she treats me?!!
8/31 was my 7th Birthday and Hoomama did what she does best. Got me treats!! I got stickers for my car. I have 3 huge 10 inch paws on EACH SIDE of my car and she got me stickers for my wall so I have 3 paws over my futon AND a 2 foot long DOG BONE STICKER that says, "Be More Dog" on it! She had that made special for meeee. I don't know why… I think I am plenty more dog already!!! LOL! WOOF! WOOF!
Rene a Tripawd made mom a beautiful pendant and tags for me and my Big Brother, Raffie. Mom said to say this stuff can be ordered from Rene's Etsy Shop (she said the address is somewhere on the Tripawds site) Hoomama is not real good with posting links. Best of all, she got me the MOST IMPORTANT presents of all – CAKE AND BLUE BUNNY ICE CREAM!!!! YIPEEEE! I was so hoppy that I slimed my big brother (I do that a lot). It was a real good day. I got dinner from Portillos too! Mom had to give it to me a bite at a time to keep me from gulping it down too fast… I have trouble controlling that, you know… sometimes I eat so fast I forget to chew and then I get sick and make a mess for Hoomama to clean up – woof! woof! Ha Ha Ha.
Guess what?? I got up this morning and was greeted by another plate of cake and more BLUE BUNNY ice cream – for breakfast! I was hopping all around I was so excited! I just couldn't believe it! That Blue Bunny is the BEST!
We go back to UW for my recheck on October 9, so please, everyone continue to pray for good results. Hoomama is already planning my celebration for Gotcha Day #7 (Nov. 1 for me). It's real nice that she does this but honestly I am looking for a little more variety in these celebrations. I think its time we take that trip to Hawaii so I can hop around in the ocean… or maybe it's time for me to get a LITTLE brother… Hoomama has been showing me pictures of French Bulldogs. I do NOT think they look like they are big enough to "BE MORE DOG". They are cute but I do not want one.
Have a great Labor Day everyone! I will post more when when I have news! WOOF! WOOF!